Heart of America Senior Softball
WHAT'S NEW?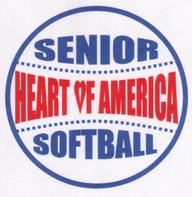 Managers Meeting Wednesdays Teams January 18 2029 11:00
MANAGERS' MEETING
If the team's manager cannot attend, please send a representative.


Saturday March 2nd, 2019
10:30 a.m. for Monday and Tuesday leagues
1:00 p.m. for Wednesday League
The meeting place is Jerry Hinton's home

8812 E 61st Street
Raytown, MO 64133
816-358-2524
---
League members are required to complete and sign the 2019 League Membership Form and pay the $20 annual membership fee before playing their first game.

New members must also provide age verification (copy of valid birth certificate or valid driver's license).

It is the responsibility of the team manager as well as the team member to make sure that the member is properly enrolled.
---
Click here for
Letter to Managers
---
League patches and bumper stickers are available through the league.
---
For sign-up information, click on CONTACT US and RULES & ELIGIBILITY